1984 mercedes
For $4,900, Is This 1984 Mercedes 380SL Really Ready For Summer?
July 24, 2017 – 03:08 pm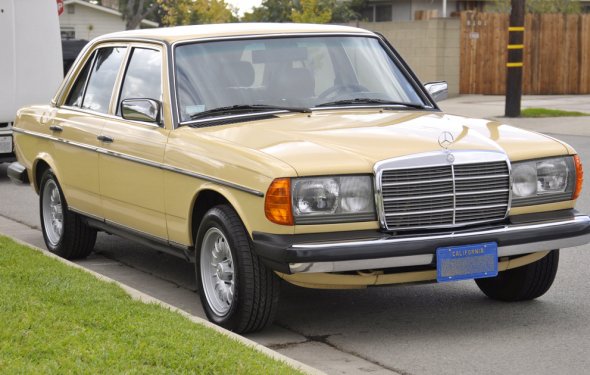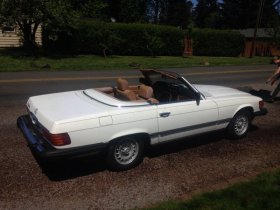 Unsurprisingly, yesterday's crazy 2006 Ford F350 camper/car carrier/dessert topping didn't make the grade. At thirty-grand it proved a little too over the top in price and presence, and perhaps far to idiosyncratic to boot, ending up with a 61-percent Crack Pipe loss.
Okay, so most of you won't be bugging out in that Ford this summer, but how about in a classic and classy Mercedes convertible? Klingt gut?
The R107 was the longest-lived of Mercedes two-seater drop tops and this 1984 Mercedes Benz 380SL hails from the model's halcyon days. That's because by the latter part of the R107's run Mercedes eschewed major changes to the car. If you look at this model of SL and the build quality that underpins it, you'll see why.
Power is provided here by a 3.8-litre SOHC V8 that the factory boasted was good for 155-bhp and 196-lb-ft of torque. The seller says the engine benefits from updates to the fuel system, as well as refreshed double row timing chains and tensioners. Also new according to the ad are the brakes—including the calipers—and the shocks. Tires are said to maintain about 95% of their tread for that fresh as a daisy look too.
That's a lot of work under the belt and, aesthetically, the car seems to have warranted it. The "Classic White" paint seems to hold a shine and there doesn't appear to be any rust or evident damage anywhere on the car.
I thought at first that there was a ding evident on the door, in the pinstripe above the handle. Then I noticed that the same thing appeared on the other door and realized that it's probably just initials in the stripe. Hopefully they'll match the eventual new owner's. A clean set of factory wheels completes the classic look.
Inside, things are much the same. There's some wear on the headrests, and some puckering on the door cards, but the dash appears to be crack-free and the wood is in decent shape here as well. Laudably, it even looks like the factory radio is along for the ride.
The car comes with both tops and while we don't see the fabric one raised, the ad says that it's in nice shape, take their word on it. I remember years ago reading an article about these cars in Road & Track. It was an exposé on the model as a used car purchase, and one the things they mentioned was the inability to get a picture of a private owner's car with the hard top removed, as none of them wanted to go to the trouble of lifting it off.
Related Posts