Mercedes 280TE
For $8,500, Could This 1984 Mercedes 280TE Be The Last Unicorn?
August 15, 2022 – 11:40 am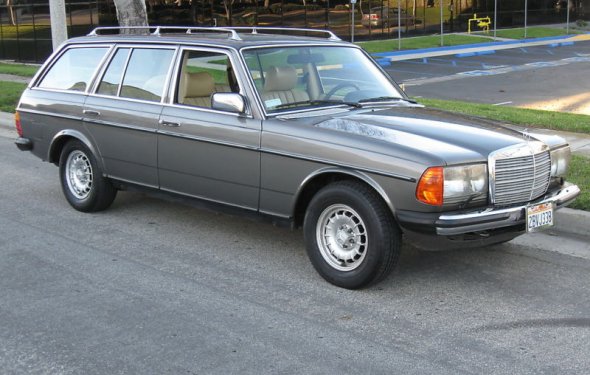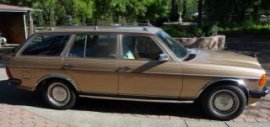 Let's check off all the wonderful attributes today's Nice Price or Crack Pipe Benz possesses- a longroof roof; five speed stick; a sweet straight-six; three-row seating; and a rep for having been built for the gods. Oh, and it's sort of brown too. How much do you think all that might just be worth?
Look, we loves us some W123 estates. Oh sure there are dissenters among the crowd, those for whom being contrarian establishes their independence from the herd mentality and brands each and every one a rebel. I totally respect that stab at individuality and against the graininess, as that of course potentially means more wagons for me.
Today's 1984 Mercedes Benz 280TE isn't just a longroof W123, it represents - at least here in 'Murica - a unicorn of a car, or at minimum one seen with less frequency than Sasquatch at Starbucks, where frustratingly they never get his name right on the cup.
We're used to seeing this body style, the elegant Bruno Sacco-led design has proved to be both an icon of its era and evidence that class never goes out of style, so it's remained popular. The drivetrain on the other hand is not all that common here.
First off, this is a 280, which means it's powered by Mercedes' 2.8-litre M110 DOHC straight six. That's a gas engine which in European trim - as this car appears to be - pumped out 182-bhp.
That's backed up by a five-speed stick shift. I'll give you a minute to soak that in. How the car was imported, and more importantly, seemingly registered in California ( your papers, please), goes undisclosed.
Other cool kibbles and bits abound on the car, there's a third row for cramped but seat belt-able 7 passenger capacity, as well as Euro lights and bumpers as a belated middle finger to '70s and '80s U.S. safety standards. And of course there's the metallic gold paint that in the fading light of dusk will no doubt appear as a lovely shade of UPS and eliciting a sigh of contentment all who behold its hue.
The ad notes that the mill was rebuilt and blueprinted 72, 000 miles ago. The car itself has 240, 000 miles on the clock, although neither the body nor the interior bits we can see - more on that in a minute - seem to show their effects.
Those miles probably aren't all that high considering this is a W123, which are built out of Indestructium, but there's still some things about the car that need to be called to light for the benefit of potential buyers.
First off, the front seats are covered in shearling which, when the car was new, was what rich people did to protect their expensive clothes from MB-Tex. Who knows what possible evils lurk under those former sheep?
Also, these seats have a tendency to break springs, making them sag precipitously. A quick and cheap fix is a couple of pool noodles wrapped underneath. Fun fact! Oh, and that formerly beige carpet in the back, yeah, for some reason that always seems to turn pink. I have a Volvo that did the same thing.
Next up, there are chrome fender lips on each corner. Thankfully they are not gold plated, but they do call into question the condition of the metal underneath. A good inspection at each arch would be warranted.
Last thing is the wheels. Those chrome Centra alloys… well, maybe they work for you, but to me? Woof!
All of the good far outweighs the chrome-plated bad on this rare Benz, and seeing as U.S. edition diesels are climbing the value ladder at a crazy rate, we now need to decide if this Euro Tour-er is worth its $8, 500 price tag. The car was featured on BaT a while back, but that didn't seem to help the seller move the metal. I'm sure we can do better.
bachelor of science in hospitality management
dr jessen crowdfunding
youth entrepreneurship organizations
msbshse
new education policy 2020 in hindi
imitating entrepreneur
klarna crunchbase
enterprise newark airport
an entrepreneur is resource
algolia crunchbase
business communication
edgazette
crowdfunding
snowball crowdfunding
lpn classes near me
cosmetology course
aha bls
bca colleges near me
3 business resources in entrepreneurship
crowdsourcing and crowdfunding
mystartr sdn bhd
best crowdfunding
cma course
micro entrepreneurs
a micro entrepreneur is
department for international development
angel crowdfunding
private crowdfunding
financial samurai real estate crowdfunding
gseb textbook
learn power bi
entrepreneur business names
law conversion course
startup ideas reddit
bls certification
impact guru office
Related Posts