Mercedes-Benz Wagons
Driving the Mercedes-Benz E-Class Wagon and AMG E43 in Germany
August 2, 2017 – 01:18 pm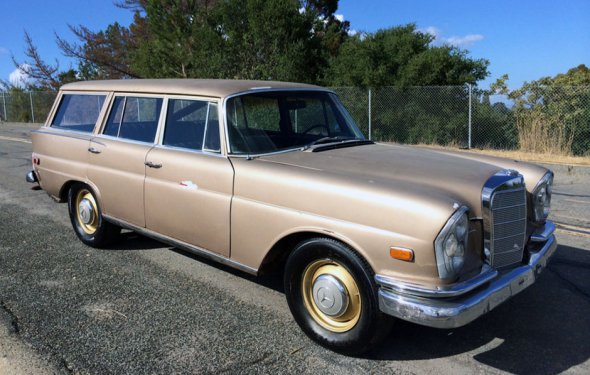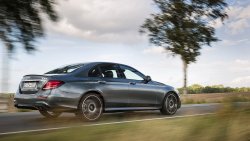 Following the launch of the fully redesigned E300 sedan earlier this spring, Mercedes-Benz has rolled out two more E-Class variants for the U.S. market: the E400 wagon and the AMG43 sedan (pricing yet to be announced). Both feature a new exterior design, an updated powertrain, and a reconfigured interior, as well as the suite of semi-autonomous driving features we experienced on the E300.
Our destination is Holstein, Switzerland—no, not that one. Comprising the area between Lübeck and Kiel on Germany's Baltic coast, the incongruently named region takes its name from the Holsteinische Schweiz a hotel built in 1885 that catered to northern Germans who sought the charm of Switzerland without embarking on a 600-mile journey south.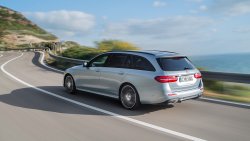 Departing from the port city of Hamburg, we wade through afternoon traffic in the AMG E43 (the only V-6-powered E-Class sedan destined for the United States) in search of greener—and quicker—pastures. The E43 is a compromise between the E300 and a full-blown AMG 63 (which has yet to be announced), with a 3.0-liter twin-turbocharged V-6 engine that produces 401 hp. Its signature diamond grille treatment, more aggressive front and rear ends, and chrome twin tailpipes make the car instantly recognizable as an AMG. Over roadwork and train tracks, the suspension is firm but compliant, what Michael Kelz, the director of development for the E-Class, calls "sporty comfortable." Sport seats with contrast stitching cradle and support, while crisp, expansive displays in front of the driver and in the center stack make it easy to see where we were going.
On the motorway, acceleration is quick enough to fall into line with other hasty drivers with help from the quick-shifting, 9-speed automatic transmission. The gearbox has been revised with faster shift times and the ability to skip gears during downshifts for more speed, although we found it rather abrupt when driving hard in sport and sport-plus modes. Those who want more smoothness and control can shift via the paddles in manual mode.
Closer to the Baltic coast, we pull off the main highway and onto gently rolling roads that pass marsh grass and the spotted cows that are the namesake for the region. The E43 chassis equipped with 4MATIC all-wheel-drive is well composed, keeping us engaged all the way to the seashore.
Related Posts