Mercedes se 300
Tamerlane's Thoughts: Mercedes W126 300SE buyers guide/ owner
December 20, 2016 – 12:16 pm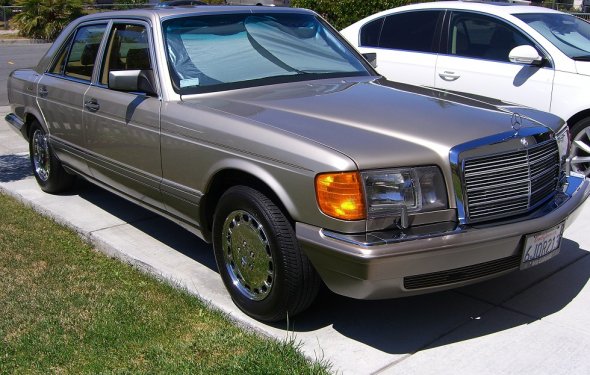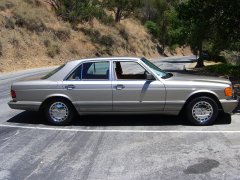 TT: You chose a 300SE. Of all the W126s, why that one? Why that engine? Why not the long wheelbased version?
TB: The 300SE model was the least expensive W126 offered for the years 1988-1991. They started at about $50K or so at the time (that's still quite a bit for late 1980s dollars!). However, interior trimmings were the same as offered on the longer wheelbased and bigger engine cars (maybe except
for heated seats, fanfare horns, and a few other small details).
I've always been not too fond of the biggest-engined nor most powerful variants. Rather, I tend to go for powerplants that are efficient and mostly bulletproof in design. The 3.0 liter inline six motor (M103 designation) gets the job done nicely for me since I mostly am a "cruising" type of guy. I don't need a big V8 engine and the thirst associated with it. Of all the W126 iterations, I have always enjoyed the styling of the short wheelbase sedans and coupes the most. Their stylist, Bruno Sacco, conceived of a timeless design for me. You see elements of the W126 design in the Japanese luxury segment cars of the late 1980s (i.e. Lexus LS400).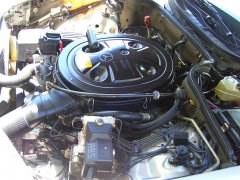 The long wheelbase sedan is nice if you carry passengers in the back seat, but since I mostly drove my 300SE alone, I did not see a need to buy a car with six inch longer back doors.
TT: How did you find this example? Tell us about your buying experience.
TB: I had been looking casually on all the popular internet car sites for months but never found a 300SE that suited my criteria (low mileage, documented ownership, superior condition in and out). While visiting a friend in Los Angeles, I happened to be using his computer and saw a listing on eBay Motors for a 1989 300SE. It was for sale from a used car dealership in Murrieta, CA. After the car did not sell through that listing, I contacted the dealer and a salesman promptly emailed me dozens of pictures.
I liked what I saw, so I called the salesman back and asked him to "hold" the car for me. He told me he would keep the car in the back lot until I could come and take a peek at it. Several days later, I flew down to LA and drove to Murrieta. Surprising to me, the salesman had the car waiting for me in the back lot just like he said he would do.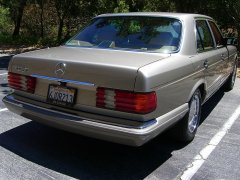 For a twenty year old car when I bought it, you would be hard pressed to tell that the car was driven much at all nor kept outside that long. I drove the car, looked over everything, and handed over the money. Although it needed a minor tuneup, I drove it back to San Jose with no problems.
TT: What issues should a prospective W126 buyer look for?
TB: If you are interested in W126 Mercedes-Benz models, you should be aware of a few things to be on the lookout for when inspecting them. Engine mechanicals for the six and eight cylinder motors are durable, but the M103 six cylinder tends to develop head gasket leaks in a certain top corner of the block. Eventually, the head gasket will have to be replaced.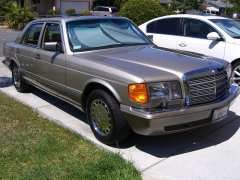 The eight cylinder motors should have their timing chains and tensioners replaced at certain intervals, so make sure it has been done and documented. Suspension and subframe bushings tend to wear out on these cars causing creaks, vibrations, and other kinds of sloppiness when driving the car. So be aware if any of this type of work has been done or needs attention. Another area to be aware of is the AC system. The W126 had an automatic climate control unit with vacuum pods mounted in the dashboard to actuate the myriad of flaps that send cooled or heated air around the cabin. If the AC system is not working on a car you're interested in, either have it checked out (and the whole car, too) before you make a big mistake. Problems could be any number of parts in the dash or under the hood.
For other parts of the USA, body corrosion is a possible problem (this was not the case for my car, however).
TT: What's up with the shiny chrome wheels? Did they come as a factory option? Why don't I see these around anymore?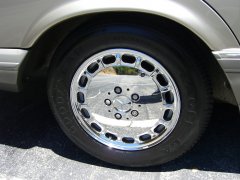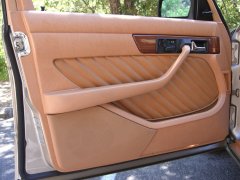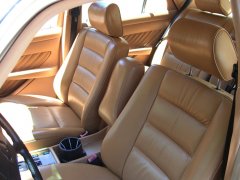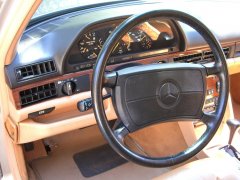 Source: karakullake.blogspot.com
Related Posts