Mercedes w 123 coupe
Classic Mercedes-Benz W123
March 5, 2017 – 05:22 pm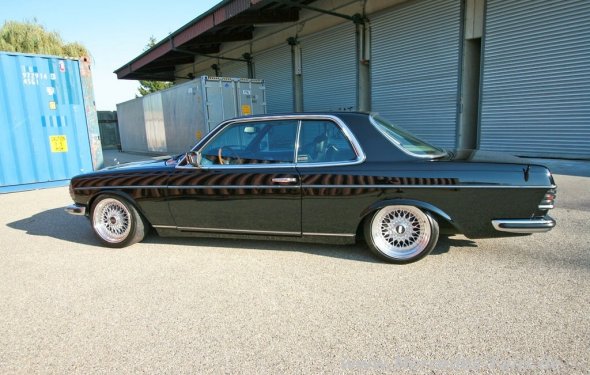 Anywhere on the planet south of about the Bosporus you'll find dusty tracks choked with Mercedes W123s. Because of the ubiquity of the Mercedes - and the memory of pungent, potholed taxi rides through Cairo, Marrakesh and Samarkand - we overlook its classic appeal. After all, outside a fly-blown African station a W123 makes a smarter taxi than a Datsun Sunny or Renault 12, but only just.
Yet there is another way to view this. What other cars from 1976 are still toiling as daily transport in such vast numbers? If quality is measured by survival - as good a benchmark as any - then the Mercedes W123 has a strong claim to be the best saloon the world has seen.
OK, so it looks like a series of boxes a child has assembled to make a model car. Or a lightly armoured tank. But if it lacks the sensual curves of a recent (or much earlier) Mercedes, it has one attribute unmatched before or arguably since: build quality. Once you know the levels of perfection reached with the W123, you wonder whether later Mercedes were fit to wear the badge.
In his forthcoming book on the car, Martin Buckley writes: "Legend has it that at a meeting in the late Seventies a director announced that the firm's cars were 'lasting too long'." The resulting cost-cutting undermined the very essence of the marque, a mistake Mercedes took years to rectify and explains why devotees consider the W123 the king of cars.
And if W123s weren't solid enough, a fanatic is stripping them down and reselling them in near-perfect condition. Actually, to call Mark Cosovich from W123 World a "fanatic" doesn't get close: his fanaticism renders Osama bin Laden a dilettante, an agnostic, a floating voter. If Mark could carry one upstairs he would probably spend his nights sleeping with a W123.
"All the cars you saw in 1976 have been turned into fridge-freezers, " says the Mercedes guru, "except the 123." He has kindly brought to Mercedes World, Brooklands, a meticulously restored 1983 fern green 230E so I can be the first journalist to track-test his creation, sold with the same warranty offered by Mercedes when it was sold new.
And I'm blown away. Against a slate grey sky it stands as stately as a sentry. Yet there are no unnecessary twirls: this is a car that turned functionality into perfect form.
Even without extras this was an expensive car, yet 2.7 million were built until production stopped in 1985, still with a two-year waiting list. Dealers would even loiter outside the factory hoping to induce workers to sell cars bought under the staff scheme.
Climbing into the cabin you see why. Driving old cars is the nearest we come to time travel, but is the W123 transporting us to the past, or future? Best of all is the finely weighted steering. Despite my forcing the old girl to do things that would be indecent with one half her age, she doesn't falter, even when driven hard into a chicane.
If Mark's cars were not too nice to spoil you could confidently (and comfortably) drive one daily. It is a wonderful synthesis of classic and contemporary: the deep paintwork pure period, but the widgety bits that can drive owners to tears all new.
I never warmed to the W123 but now I'm a fan, too. No wonder it is still so widely used. Maybe those Helmand tribesmen aren't so backward after all…
Contact: markcosovich@btconnect.com
THE FACTS
Production: 1976-1985
Source: www.telegraph.co.uk
Related Posts