Mercedes 300d manual transmission
And yet another 300d Manual Transmission Thread
May 31, 2017 – 04:01 pm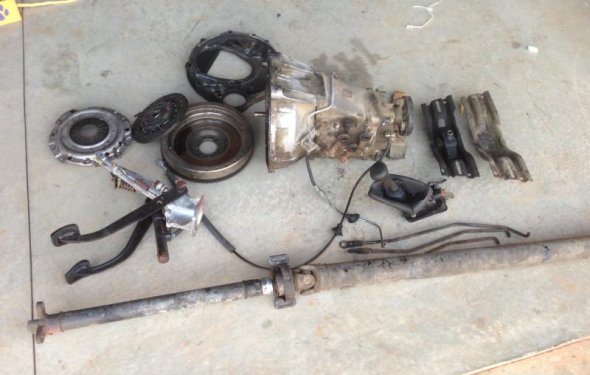 Yes a 240D 4-spd manual trans will bolt up to the 85 300D. However, as I remember, the hole in the end of the 85 crankshaft is a different size, and won`t take the standard pilot bearing.
The 240D manual Flywheel will bolt right in.
The transmission will bolt to the 617.952 adaptor plate and engine
You can use the 85 adaptor plate, and still use the tach pick up sensor that gets it`s impulses from the FW.
Use the 240D transmission X mount from a 240D automatic.
The shifter will bolt right in where the auto shifter was. uses the same holes.
The shift rods will have to be shortened some, threaded and tweeked a little to fit.
You will not need the NSS harness, but will need to pull it into the cabin through the gromett to the right of the fuel adjustment device. (Gas peddle ) 2 wires are for the back up lights and the other 2 are for starting. the purple one`s as I remember connect to the plug just above the carpet tunnel on the same side. the other 2 to the back up switch from the shifter.
Use the front driveline section off a 240D, and have it shortened and balanced. may be a good time to replace the center support bearing and check the U-joint.
The 85 has the 2:88 differential and is good on the highway for cruising. I changed my 85 a couple yrs back, seems like a gear between 3rd and 4th and one between 2nd and 3rd would be good. you will be using 3rd around town and on the freeway during heavy slow traffic. when you get below 2700 rpms I drop her down from 4th, can feel some vibs. anything above 3000 and she is a good runner on the highway.
When you pull the auto trans and swap in the 4-spd, the front end will be riding high. the 4-spd only weight 54lbs. not sure on the auto, but they are heavy.
I installed a set of 240D front springs, and it brought down the front to a good ride highth. only down side is on a windy mountain road, it is a little soft in the turns. normal driving, it is great.
I have a 300TD front sway bar to install, they are 2mm thicker. and need to get it in before this winter.
would I do it again? you bet.
you may ask how I got around the pilot bearing issue it being a 85. the engine is a rebuilt one from a different year, and or a different crank.
Source: www.peachparts.com
Related Posts