Mercedes e class 1993
W124 E-Class 93-95  There are 19 products.
July 27, 2017 – 07:12 am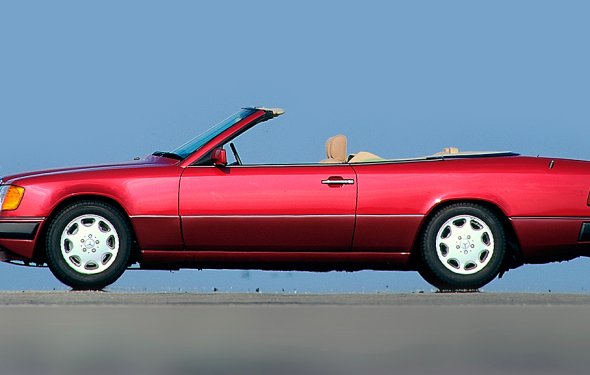 Mercedes Benz W124 | Years 1993-1995 Models 300CE, 220E, 320E
For Rebuilding Your Cylinders: You must send your convertible hydraulic top cylinders to us. Once we receive your cylinders, the turn around time is up to two business days for rebuild service and we will ship the cylinders back to you by Priority U.S. Mail (2-3 days delivery time).
Core exchange service is now available for full sets of eight cylinders, as well as some single cylinders based on availability. Core exchange is NOT available for individual p/n's, , or .
Model years 93-95 have eight hydraulic cylinders that move and lock the convertible soft top. The original seals in the hydraulic cylinders, aka rams or actuators, will eventually fail in every W124, unless it gets wrecked prematurely, even if you never drive the car or have never used the top before. Rebuilding these cylinders is NOT a matter of changing o-rings. Every W124 cylinder has one o-ring, and those rarely ever fail. What fails most frequently, are the other seals, which have special shapes for proper function.
Top Hydraulics replaces and upgrades ALL seals in the cylinders with superior material:
1) Rod seals. They are cup-shaped and seal the piston rod from the rest of the cylinder. When they fail, you will see fluid coming out next to the chromed shaft (rod). These are usually the first seals to fail in the cylinders.
2) Piston seals. They seal the input and output sections from each other, as the piston slides through the cylinder. The piston seals have been made of different materials and sizes even in the same p/n cylinders throughout the years. Failing piston seals will cause internal leaks, which result in a pressure drop in your hydraulic system. Early model years have the added problem that the piston seals swell up and make it very hard to move the piston inside the cylinder. Crumbling piston seals can block valves or pinholes inside the hydraulic system, and it can be difficult to diagnose a piston seal failure without testing several cylinders once you find that your top is moving slowly or not at all.
3) Cap seals. These are just o-rings that seal the top cap of the cylinder from the housing. They are usually the last seals to fail, but these o-rings are penny items.
4) Port seals. They seal the hydraulic lines where they are pushed into the cylinders. Port seal failure is becoming more and more common as the W124s age. Port seals have a special shape that makes them seal under pressure. O-rings wouldn't do the trick. They are secured by precisely machined brass rings (accuracy about 1/100 mm). DIY removal of the brass rings will almost certainly destroy the brass rings. Top Hydraulics installs port seals that are tighter than the originals, just in case the hydraulic line fittings have been scratched.
More
Source: www.tophydraulicsinc.com
Related Posts