Mercedes station wagon 2010
New York 2010: Mercedes-Benz E350 4Matic Wagon returns with throwback third-row
March 20, 2017 – 08:41 am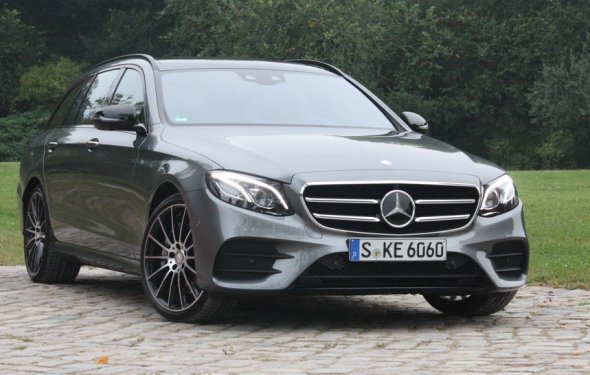 New E-Class Wagon Features More Style, Safety and Utility
NEW YORK – Mercedes-Benz is launching its next-generation E-Class wagon at
the New York International Auto Show, open to the public April 2-11, 2010 at the
Jacob Javits Center in Manhattan. Packed with useful new safety technology, the
stylish 2011 E350 4MATIC wagon is expected to reach U.S. dealerships this
summer.
The Look of a Sedan, the Utility of an SUV
While the new E-Class wagon is styled more like a traditional sedan than an SUV, it
boasts outstanding utility. Standard 4MATIC all-wheel drive provides an extra measure
of traction, whether the road surface is wet, dry or covered with snow.
Smart-looking aluminum roof rails are standard, and inside, a 60-40 fold-down rear seat
makes for cavernous cargo capacity that's highly flexible. For example, the E-Class
wagon can carry a grandfather clock and still accommodate three occupants, or a load
of lumber can be carried with four people aboard.
Its normal five-seat configuration can easily expand to seven seats by unfolding a
standard third-row seat from the luggage compartment floor. The E-Class wagon is the
only vehicle in its market segment to feature seven-place seating. With coil spring
suspension up front and electronically controlled air springs at the rear, its load-
leveling air suspension keeps the car level regardless of the cargo weight.
An elegant luggage cover and cargo net are attached at the beltline so they don't
interfere with the fold-down rear seat. At the same time, the cover can be attached to
the folded seatbacks if needed, and it can be raised conveniently whenever the standard
power liftgate is opened.
4MATIC Four-Wheel Drive Sets a Trend
The new E350 wagon comes standard with 4MATIC all-wheel drive. As modern all-
wheel-drive systems become more refined, they are becoming increasingly popular,
especially in the luxury car market. With negligible weight and fuel-efficiency
tradeoffs, full-time four-wheel drive provides year-round traction and stability benefits
on both wet and dry roads.
The latest Mercedes-Benz 4MATIC system is cleanly integrated into the automatic
transmission so it fits right into the standard body and utilizes the existing front
suspension. Fuel efficiency has been improved, due to a number of innovative
measures that minimize the energy needed to turn the extra gears and shafts.
Sport and Luxury Models
Fitted with standard 17-inch split-five-spoke alloy wheels, the E-Class wagon is
available in Sport or Luxury trim that is designed to appeal to a wide range of customer
tastes. All Luxury models come with a comfort suspension and can be identified by a
four-lamella front grille, contemporary yet elegant body styling and an interior
featuring burl walnut trim. Sport models have a three-lamella grille, expressive sport
body styling and are fitted with sport suspension that includes a slightly lower ride
height. Inside, the Sport model includes a unique tone-in-black interior theme
featuring black-ash wood trim.
ATTENTION ASSIST Cautions "Time For A Rest?"
Among the many standard life-saving features on the E-Class is the innovative
ATTENTION ASSIST system that can alert the driver to the first signs of drowsiness, a
factor that causes more than 100, 000 accidents a year in the U.S. A steering sensor is
coupled to smart software that uses 70 parameters to establish a unique driver profile
during the first 20 minutes of driving. Between 50 and 112 mph, the system identifies
the erratic steering corrections drivers make as they begin to get drowsy and triggers
an audible warning, and a "Time for a Rest?" message with a coffee cup icon in the
instrument cluster.
More New Safety Systems Assist the Driver
Other examples of trailblazing innovations include: Lane Keeping Assist, which alerts
the driver by simulating rumble strip vibration in the steering wheel if the car drifts
from its lane without the turn signals on. At any speed above 37 mph, the system
recognizes lane markings, thanks to a small camera in the windshield and a computer
that analyzes the video images.
Adaptive Highbeam Assist uses a small video camera to sense both headlights and
taillights, then softly and automatically transitions between high and low beam
operation to avoid dazzling other drivers. With this system, the range of the headlights
can be varied infinitely from their current 220 feet to up to 1, 000 feet.
Night View Assist PLUS can now enable a driver to see pedestrians up to 300 feet
earlier than before. When the system recognizes pedestrians, they appear in the
display with an outlined frame highlighting each person. In contrast to passive systems
that rely on thermal imaging, this active system bathes the road ahead with invisible
infra-red light from two beams mounted in the headlights.
Extending the driver's ability to see ahead to nearly 500 feet, Night View Assist PLUS
uses an infra-red camera in the windshield and displays the reflected images as highly
detailed black & white video images in the COMAND display.
The optional DISTRONIC PLUS system now includes Blind Spot Assist, which monitors
both blind spots alongside the vehicle. Whenever a turn signal is activated with a
vehicle in the blind spot, the driver gets visual and audible warnings.
Its optional Parktronic system also incorporates Parking Guidance, which utilizes ten
ultrasonic sensors mounted behind the front and rear bumpers. At low speeds, the
system scans available parking spaces and displays a "P" in the dash if the car will fit
in the space. When reverse is selected, Parking Guidance displays a pictogram of the
steering wheel and provides helpful steering guidance.
PRE-SAFE® Brake Can Automatically Apply 100 Percent Braking in Emergencies
When the E-Class is equipped with the optional DISTRONIC PLUS system, another
revolutionary Mercedes-Benz safety feature – PRE-SAFE® brake – can now apply full
braking automatically in emergencies, to reduce accident severity. When PRE-SAFE
Brake senses an impending collision, the system sounds three warning tones.
About 1.6 seconds before a potential impact, partial braking is automatically initiated,
and the PRE-SAFE occupant protection system are activated. If the driver still fails to
react, full-power braking is initiated about 0.6 seconds before the collision, reducing the
impact and effectively acting as an "electronic crumple zone."
All E-Class models are equipped with "basic" PRE-SAFE – the world's first system that
can sense and take protective measures before a crash. The innovative PRE-SAFE
system first automatically tensions the seatbelts if the car senses an impending
collision. PRE-SAFE uses resettable electric tensioners in addition to the existing
Related Posts