Mercedes station wagon used
Driftwagen: 2018 Mercedes-AMG E63 wagon packs 603 hp under slick new sheetmetal
January 19, 2020 – 12:02 pm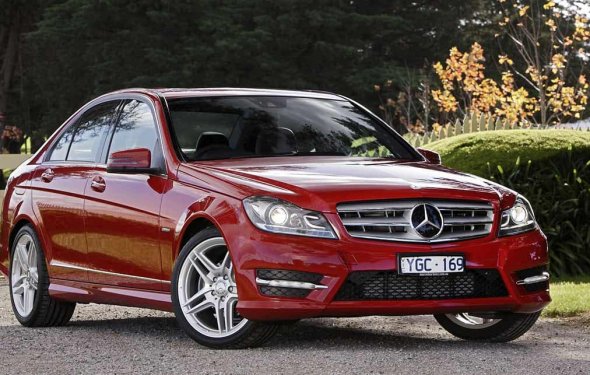 Just when you thought you'd seen it all in terms of station wagons, here comes Mercedes-AMG's 2018 E63 S wagon. Arriving in showrooms this fall, AMG's latest longroof uses the sedan's 603-hp/627 lb-ft 4.0-liter twin-turbo V8 (hand-built, of course), AMG-tuned 4Matic+ all-wheel drive and a nine-speed automatic transmission that uses a wet clutch in place of the traditional torque converter. The combination is good for a 3.4-second zero-to-60 time and an electronically limited 180-mph top speed.
This time around, the monstrous V8 has cylinder deactivation while the all-wheel-drive system is now fully variable, able to send up to 50 percent of torque to the front wheels. More importantly for AMG drivers, the variable 4Matic+ also has a coupling that disconnects the front axle, sending 100 percent power rearward to the electronic limited-slip differential. The five driving modes - Comfort, Sport, Sport +, Race and Individual - allow you to adjust the car's ride, handling, steering, throttle response and 4Matic settings.
AMG boss Tobias Moers says add it all up and this new wagon is more agile than the outgoing model. We can't wait to find out in person - the E63 wagon will debut in the metal at the Geneva motor show, and first drives should happen a few months after that.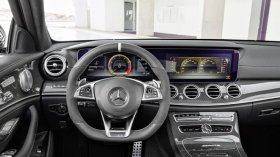 2018 Mercedes AMG E63 S wagon interior
It's a tough-looking bugger, this wagon. The hood is inset between the fenders and bumper like a coupe, the wheel arches are wider to accommodate the wider track width (Benz hasn't given dimensions yet) and there is an air splitter and huge air intakes in the front bumper. Side sill panels make it look like the wagon sits lower than the E400 wagon, while the rear diffuser and twin chrome-plated tailpipes look striking, at least in the photos.
Related Posts