Mercedes W123 black
Mercedes-Benz E-Class (W123)
November 26, 2016 – 11:12 am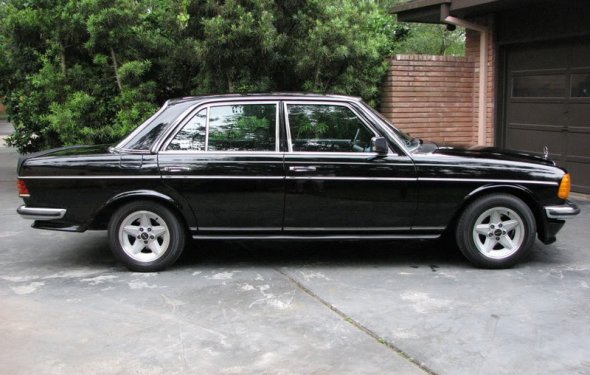 230CE
Experience at the garage or specialist
How you rate the manufacturer
The phenomenal W123 is THE car
I purchased this one owner vehicle with very low miles last year. I'd never seen one in factory black, although some have been (very badly) re-painted, often from champagne gold or thistle green, by various youths obsessed with cack-handed customising.
When the owner opened the garage shutter, the Mercedes was covered in a thin layer of dust, but still looked very handsome and elegant in a slightly sinister fashion. It looked like something maybe Blofeld's best henchman might have used for dating purposes: the rear seats are too cramped for the adequate menacing of abducted secret service agents.
After I'd examined the car I knew I had to buy it.
It is very reliable. Unlike modern cars, when something is wrong you can hear or feel there's an issue. It provides plenty of warning to a sentient owner rather than simply dumping you on the hard shoulder with an incomprehensible dashboard lit like a Vegas slot machine...
It regularly returns 25 MPG, with a best of 29 MPG. Not a quick car, but smooth and best suited to cruising. The fat 70 section tyres dispense with the poor roads and speed-humps: leave the cracked alloys to the low-profiled modern cars. The handling is quite soft but reassuring, and the boot is as large as that of the saloon version, which makes it very practical for touring. Put the four electric windows down, open the sunroof and marvel at a convertible-style experience without the leaking-seals and associated problems of that vehicle type.
Prices are rising as the world outside the Middle East and Africa at last acknowledges just how great these cars are. Most are not in the condition or low mileage of my car, but the sheer numbers that still survive point to the immense durability of the essential W123 design, in whatever guise.
Source: classics.honestjohn.co.uk
Related Posts